Side event:

The Need and Challenge of Ambitious Climate-Energy Strategies at the Urban Scale
December 2nd 2014 – 1pm-3:30pm – European Pavilion
The involvement of local communities in tackling climate change and promoting sustainability is increasingly
recognized as central and readily visible through various initiatives around the globe. How are they shaped to
deliver their long term ambition? This side event will discuss the design of climate friendly strategies for cities.
Concrete initiatives will be introduced by speakers from MINES ParisTech (research), the French region PACA
(local authority), and Schneider Electric (industry).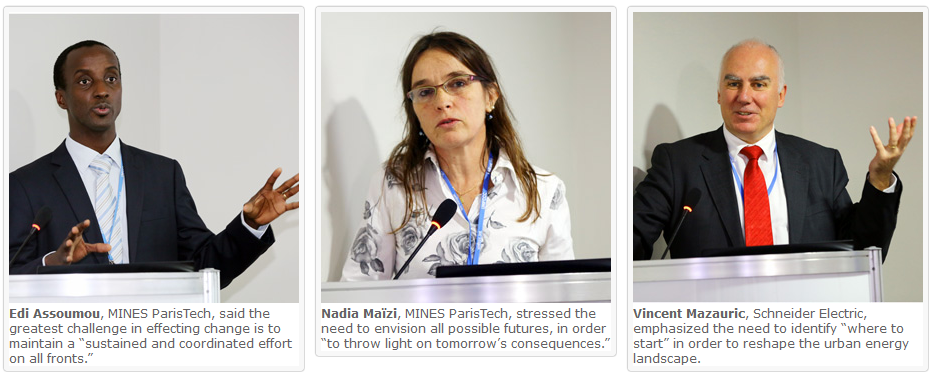 Image credit: © IISD Reporting Services
Side event:

Carbon energy system analysis through the regional climate contribution's issues
December 2nd 2014 – 3:30pm-5:30pm – European Pavilion
This side event aims to assess consequences of low carbon policies, through different regional climate coordination schemes, on energy system. ParisTech scenarios based on the TIMES modeling approach and LIMITS project to meet 2 degree based on the IMAGE model, will notably be discussed by big world company (Schneider Electric) and country representative (Peru) to provide a forum for a highly relevant discussion.
Side event:

Combatting climate change in Latin America
December 3rd 2014 – Room Paracas
Experts will discuss how the Latin American countries envisage the future of their energy system and conservation system, in a context where they face the devastating impacts of the climate change. Lessons from modeling exercises will illustrate the debate about climate policies, regional integration, energy resources, and the valuation of the ecosystemic services, etc.
Read article on the side event by the Peruvian Ministerio del Ambiente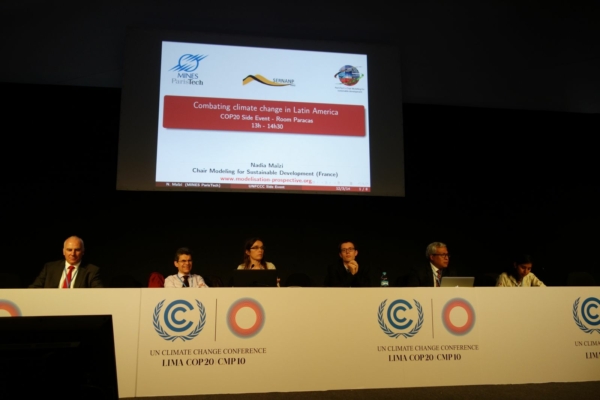 Image credit: © Chaire MPDD